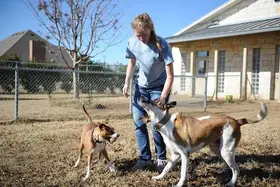 Luxury Suites
These suites are 6ft x 6ft and perfectly suited for our larger breeds or multiple pet families.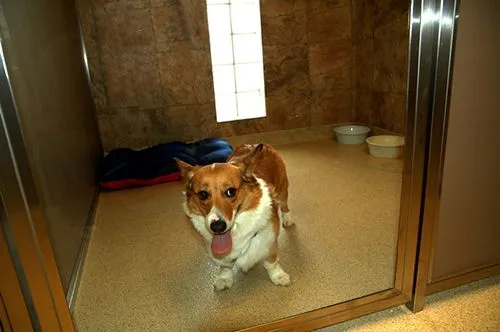 Standard Suites
These suites are 3ft x 6ft and are comfortable for single pets or multiple small dog families.

Feline
Our feline facility consists of enclosures that have a separate area for lounging away from their bathroom area and whether your kitty is enjoying the view out of our windows or the jungle painted around them, you know they are comfortable.
All of our runs are deep-cleaned daily, maintaining a safe, clean environment for your furry kids. To ensure the safety of all of our boarding guests, we do require that our canine guests are up to date on a few veterinarian-administered vaccinations and treatments including:
For our feline guests, the following are required:
Strongid (or other general dewormer within the last 90 days)
Must also be current on flea/tick prevention
Please click on the link for more information regarding a specific disease and the reasons for vaccinating your pet.
All of these can be performed at our facility if necessary, but it is recommended that they are performed 2 weeks prior to boarding to ensure ideal immune response. If you have any questions on our vaccine requirements, feel free to call our office.
If you would like to bring your pet's own food, bedding, or toys, please feel free to do so, but they are also provided for your convenience. We provide a bland prescription diet (so tummies stay calm through boarding), comfy bedding, and toys, as well as plenty of love and attention. While staying with us, we will make sure your pet receives the highest quality of care, as a veterinarian is on the premises or on call at times.
All of our usual services can also be performed while your pet is staying with us, including grooming, exams by the doctor, and surgical procedures.

Pricing
Our prices cover much more than just the kennel space, as they also include any food, bedding, and toys provided. Alsoincluded, at no additional cost,are walks and playtime outside in our fenced yard (4-6 times daily) and the administration of medications.
**On August 15, 2018, we will have a slight price increase for boarding. This is to cover increasing costs in caring for your furry family members. The chart below reflects updated pricing as of August 15, 2018.**
Please do not hesitate to call and speak with our staff if you have any questions.
Kennel Options

Cost per night
(1st pet)

Cost per night
(additional pet)

Luxury Suite (6'x6')

$40

$20

Regular (3'x6'),
0-20lbs

$28

$14

Regular (3'x6'),
21-40lbs

$30

$15

Regular (3'x6'),
40-60lbs

$32

$16

Regular (3'x6'), 61+lbs

$34

$17

Feline

$24

$24